ISO 45001 certification is an internationally recognized set of standards for implementing Occupational health and safety management system in an organization.  ISO 45001 ensures safety of workforce and clients from work related injuries and death. It was created to prevent any risks that can cause workers and organizations unfathomable damage. The standards in ISO 45001 Certification is a result of incredible brainstorming by a committee of experts from the field of health and safety management, who have taken into account other management systems— including ISO 9001 Certification and ISO 45001 Certification.
Updated in March 2018, this Certification marks a critical advancement in general improvement of Occupational health and safety (OHS) around the world. Published by the International organization for standardization (ISO), this standard empowers organizations to proactively improve risk anticipation and reduce incidences of injury or even death.
ISO 45001 Certification supersedes previous occupational health and safety standards. Organizations that already held OHSAS 18001 certification were needed to shift to the ISO 45001 standard by March 2021 as OHSAS 18001 certification is replaced by ISO 45001 certification. Due to Covid-19 pandemic, there has been an extension in these dates.
Advantage Of ISO 45001 Certification :
To make a mark in a highly competitive world market, organizations should proactively deal with a wide range of occupational risks, and the issue of health and safety of the interested parties, is no special case. ISO 45001 Certification will give new catalyst to the progress in improvement of workplace condition and safety of workforce, clients, representatives and contractual workers. This brings about a confidence among the employees that their organization takes the responsibility for their wellbeing.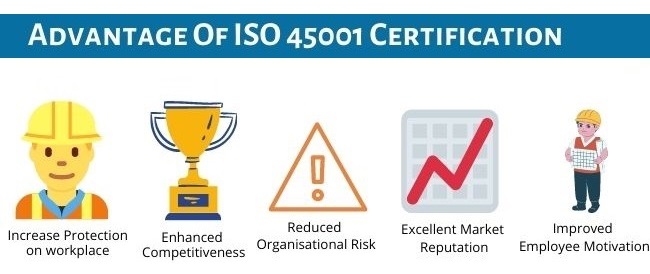 How does ISO 45001 Certification Helps you with?
Worker-Safety
Hazard-Management
Risk-Reduction
Injury Prevention
Enhanced Occupational Health Measures
Statutory Identification and Compliance Evaluation
Improve Productivity
Enhance Organizational Safety Culture

KEY-FEATURES OF THE ISO 45001 CERTIFICATION
Despite the fact that ISO 45001 Certification comprises a completely new ISO standard, its foundation can be traced back to its history as OHSAS 18001 is to replaced with ISO 45001. Organizations that have implemented the health and safety management system as per ISO 45001, and effectively integrated it with ordinary organization practice, can anticipate a smooth transition to ISO 45001 standard.
Key improvements:

ISO 45001 implements the 'High Level Structure', making it integrate with the common structure of other management systems, for example, ISO 9001 and ISO 14001 certification.
ISO 45001 Certification emphasizes on greater responsibility of senior management. This aspect has also been mentioned in the modified ISO 9001 and ISO 14001 standard.
ISO 45001 Certification also incorporates the interests of clients or contractors who are not employed full-time, but are associated with the operations of the organization. Thus, it merges the components of the SCC (Safety Certificate for Contractors) certificate.
The standard talks about risk assessment, which go past the simple definition of mitigating OHS risks and therefore, imparting ways of prevention of those risks as well.
ISO 45001 Certification Requirements –
The ISO 45001 standard uses a structure comprising of ten clauses, called Annex SL. In order to achieve ISO 45001, you should consider accompanying following requirements:
Context of the Organization –
ISO 45001 Certification Process :-
In the event that your business is ISO 45001 certified, you already have a strong benchmark for your facility to become OHSMS ISO 45001 certified.
Just like the case with most standards, when you are going for ISO 45001 certification, you must follow certain steps:
Have a gap analysis performed on your current system and identify any regions of shortcoming and scope of improvement.
Make the important changes and upgrades so your business is consistent with the new standard.
Ensure that everyone is aware about the new standard and participates in its implementation.
Invite an external auditor to assess your compliance and certify you at the end.
In case the findings report certain gaps, make sure to fill them in the given time-frame.
Once certified, follow the ISO 45001 framework for continual improvement.
If you are looking for certification process of ISO 45001 certification OHSMS and you are bothered about the hassle that you my face, worry no more. With more than 15000 clients all over the world across more than 35 countries, and multiple certifications under the scope of our services, SIS Certifications stands out to be one of the best certification bodies. Our vast pool of experienced auditors aims to comprehensively assess your compliance to the set norms, and certify on the basis of adherence to the set standards.